In the state of Washington an injury lawyer has a simple free book on tips you should know if ever in a car accident. An accounting firm has a free book on hints for filing taxes. Books are a marketing commodity more business owners are tapping into, a tangible object people keep handy for reference or information. What better way to get a company's name into the minds of potential customers than offering information they want and need in a pocket-size book.
More substantial than a leaflet or tri-fold brochure easily thrown away, a book represents quality experience and knowledge and is now being touted as a significant marketing tool for business owners and entrepreneurs as their new business card. For decades, the industry of personalized pens, can holders and such begged companies to attach their logo to just about anything plastic or metal. Yet a book not only touts a company name and logo but is filled with interesting fine points, proving an expert edge to any subject.
Whether a small business owner or service provider, imagine handing a potential customer a professionally designed book of your company or expertise. A guidebook of statistical data or fun how-to procedures for better living, a manual of making a better mousetrap will boost exposure for yourself and your company. A memoir of the company's owner is another viable book idea creating a revenue source worldwide; people love to read about people – hence the popularity of the national magazine of the same name.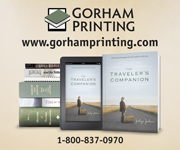 Today's short-run book printing is a flexible process where you can easily start with fifty copies and see what helpful reviews and evaluations come back. Then simply make any changes, if needed, for a complete guidebook or how-to edition to start handing or mailing out to customers. Ordering in quantities of 500 books means not worrying about costly storage and still keep the cost per book down.
Learning how to write a book or books for your company is as easy as attending the Nonfiction Writers Conference May 6-8, 2015 with industry experts explaining the various steps and issues.