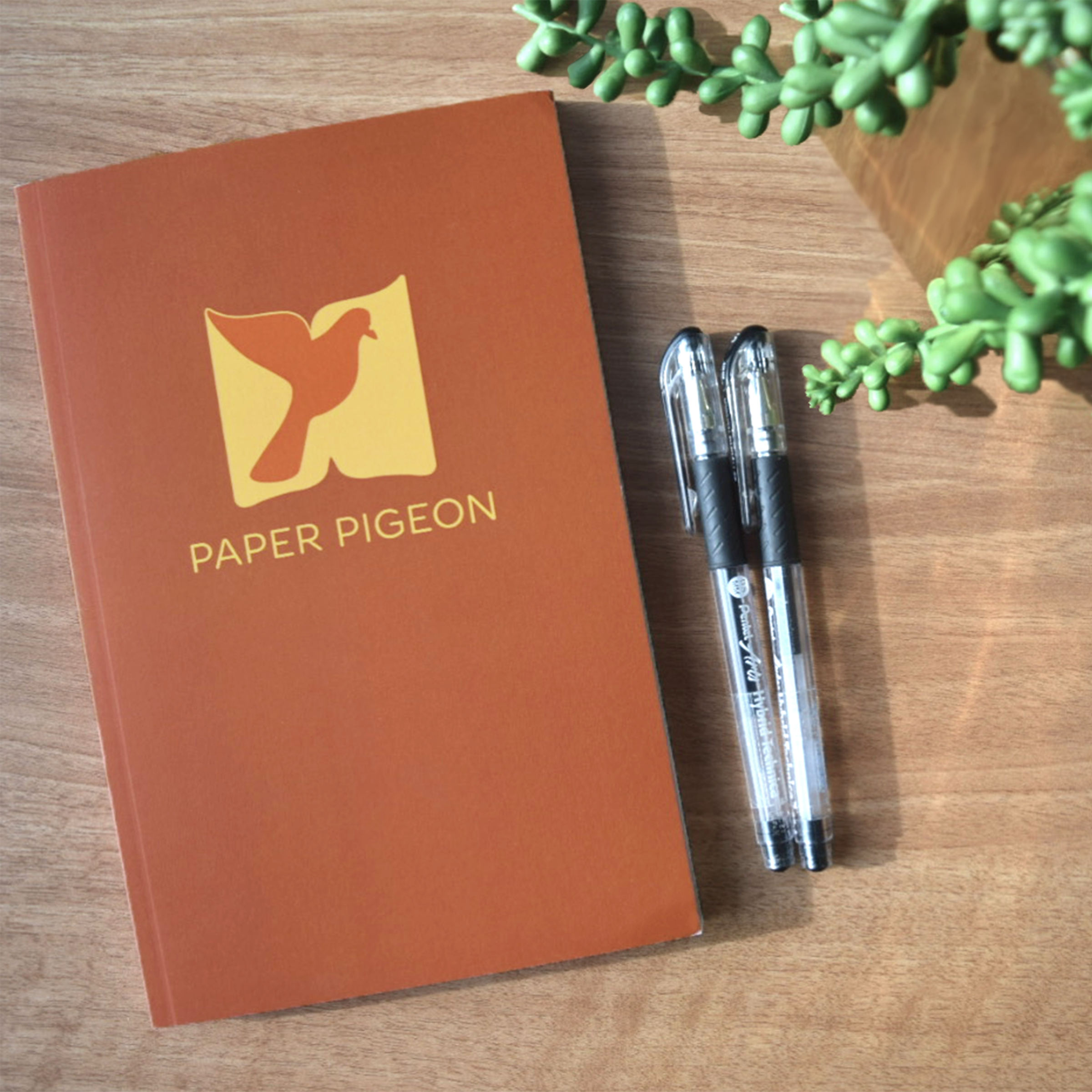 I first began talking with Isabella about Paper Pigeon in the fall of 2020, and I immediately knew there would be a special book coming my way. Isabella did a lot of research and asked great questions about the printing process, so that by the time we started the order for Paper Pigeon, her files were in great shape.
We just finished the second printing of Paper Pigeon and look forward to many more reprints. I was able to speak with Isabella recently about her story, and she shared her inspiration and experience in self-publishing her journal:
GP: What is the concept of your book?
IB: I created a prompted, collaborative journal called Paper Pigeon! It's designed to be completed by pairs like best friends, couples, and family members, and helps them develop a deeper connection. The journal features over 200 different activities and questions for them to complete, either by sitting down together or by passing it back and forth. The idea for Paper Pigeon came from a journal I mailed back and forth with my long distance boyfriend when quarantine first began, so I also heavily advocate for the journal's benefits with long distance pairs.
GP: What made you want to self-publish?
IB: Before choosing how to publish my project I did quite extensive research about the process of selling my work to a publisher. I learned that publishers often look for an author with previous experience or a strong platform that will improve the reach of their work. As a university student studying entrepreneurship, I have no formal education or background in writing and lack an audience from an established career. Therefore, I believed that although I had the drive and passion to create work that I'm proud of, I may have lacked the qualifications on paper to work with a publisher.
Additionally, self-publishing allowed me to bring my book to life in just 7 months, which is much quicker than the process of working with a publisher. Moreover, Gorham provided me with incredible support and resources. The attention and care I received working with the Gorham staff were completely unmatched and I feel certain that I would not have had such a positive experience elsewhere. Working with Gorham was also very rewarding because I'm able to support a local family-owned business with my publication, which is important to me.
Finally, self-publishing my book has also given me more control over other aspects of my small business such as packaging, writing personalized thank you cards for every order, and building relationships directly with my customers.
GP: What program did you use to design your book? Did you come across any challenges with that program?
IB: I used the Adobe Suite to design my book, specifically Adobe InDesign. I had never used this program before, so I experienced a great learning curve as I familiarized myself with it. YouTube tutorials and forums on the Adobe website were crucial in helping me learn.
My greatest challenge designing Paper Pigeon wasn't with InDesign itself, but actually with choosing a font. I struggled finding a font style that looked clean yet handwritten to properly represent the qualities of my prompted journal. I spent about a month trying different fonts and font sizes, printing sample pages, and even polling friends and family, before finally choosing a typeface that I was happy with.
GP: I know you have been working on this project for quite a while. What did it feel like when you first saw your finished book?
I had spent so much time with my work just in a document format that finally unboxing it as a book felt surreal! Being able to hold the book and flip through its pages was such a rewarding moment for me. I still don't think I've fully processed it, especially when I consider now that people around the world are using my journal to connect with the people they care about.
GP: Your first printing was in March of this year, and you are already doing a reprint. What kind of presale marketing did you do before you had the books in hand?
I began by reconnecting with the people that I had interviewed to inform its contents. I emailed anyone that I believed had contributed significantly to the development of Paper Pigeon to share the exciting news that it was finally published, to thank them again for their support, and to give them first access to purchasing a copy. Then, I shared the news with my extended family and friends on Facebook, Instagram, and LinkedIn. They subsequently reposted my announcement to their own networks which helped raise additional awareness. That being said, a majority of my sales came from social media promotion after my book was published.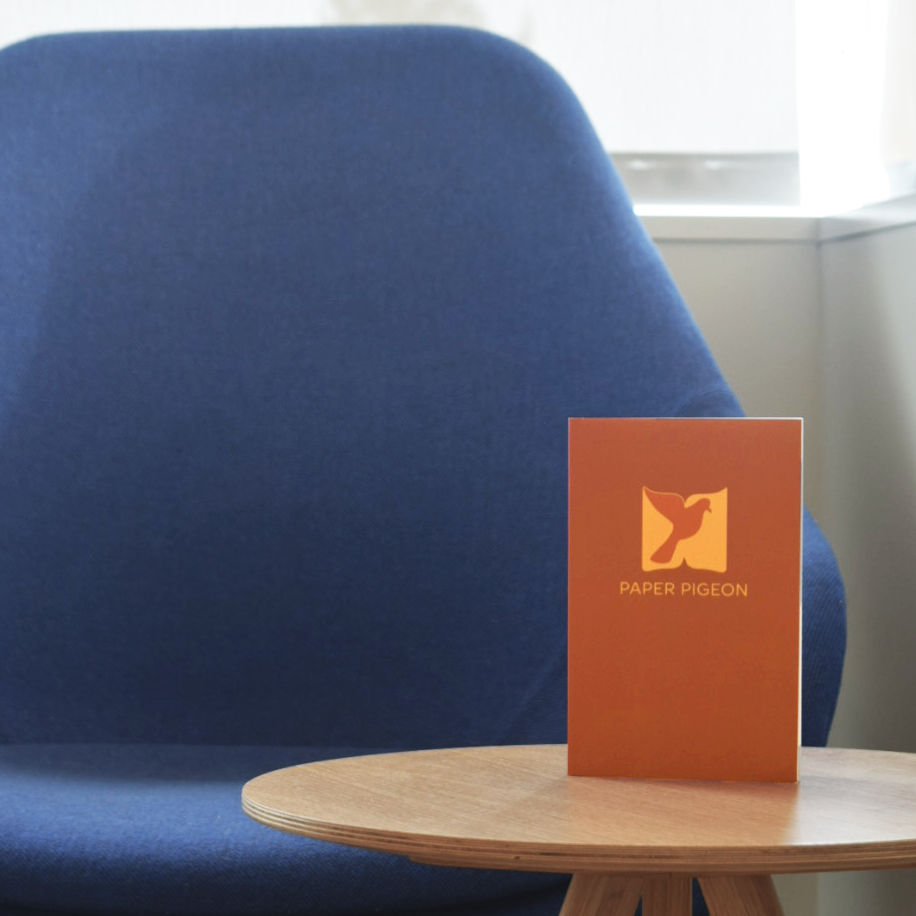 GP: How have you spread the word about your book since?
IB: I used an organic marketing strategy to advertise my book and never spent a single dollar on marketing expenses. Instead, I used Instagram and TikTok to post content about the value of Paper Pigeon and the prompts inside. Most social media platforms (Twitter, Facebook) require that a user follow you before seeing your content. Contrastingly, TikTok and Instagram recommend content to users based on an algorithm (think Amazon "recommended for you.") This meant that I was able to get my content in front of hundreds of potential customers without having a large initial audience. I posted daily for about two months before selling out. Each post performs differently so the key is consistency. I ended up having two posts gain a lot of traction on TikTok, one received 18,000 views and the other 128,000 views. The popularity of these posts directly translated to sales and led to half my inventory being sold in just a week!
My growth was also fueled by a partnership I arranged with a couple who has 11,000 followers on TikTok. They are college-aged and post content about being in a long-distance relationship, so they aligned strongly with my target audience. In exchange for a complimentary copy of Paper Pigeon, they posted a video using the journal which directly led to the sale of about 20% of my inventory. TikTok is home to large book and small business communities, so posting content that taps into these groups is a powerful tool for any self-published author! (Do some research on "Booktok" to learn more.)
GP: Do you have a future project in mind? Will it be another journal or something different?
IB: I have considered the potential of making additional prompted journals for pairs that have specific themes, for example Paper Pigeon for students, grandparents and their grandchildren, newlyweds, etc. I do hope that continued success will give me the opportunity to expand into some of these areas, but right now I am excited to continue growing my current edition of Paper Pigeon over the summer.
GP: What would you tell someone who is thinking about self-publishing a book?
IB: DO IT and don't let a lack of formal experience in writing or literature stop you. Your drive and the passion you have for your concept are what truly matter. Being able to hold a physical and bound copy of your work is so rewarding and you will be happy you did it. Additionally, by printing with Gorham you couldn't be in better hands.
GP: If you could send your book to anyone in the world, who would it be?
My dad often insists that I should send a copy of Paper Pigeon to Oprah, especially because her recommendations carry a great amount of weight. However, from a business perspective, I would love to get a copy of Paper Pigeon to an executive at Paper Source. The store is all about creative gifts, paper products, and journaling, which all strongly align with Paper Pigeon!
For a more fun answer I would love to send my book to Emma Chamberlain. She's definitely my generation's trend setter and I think she and her boyfriend would love using Paper Pigeon to connect while she's busy jet-setting around the world being a girl boss!
One of the best parts of working at Gorham Printing is seeing beautiful and innovative book projects, and Paper Pigeon is a great example of this. Isabella took her personal situation during quarantine and created something to help others. Being able to accompany her on the path to getting her books printed was truly enjoyable.
Whether you are writing your family history, publishing a novel, or creating a collaborative journal like Paper Pigeon, we are here to help bring your vision to life. Call me or Jennifer to discuss your ideas!
Find out more about Paper Pigeon:
Follow Paper Pigeon on Instagram and TikTok @paperpigeonjournals
Purchase a Paper Pigeon journal of your own at https://paperpigeonjournals.square.site/
Email Isabella at paperpigeonjournals@gmail.com if you'd like to talk more about her experiences self-publishing or marketing her work.