Request a free copy of A Guide to Book Printing & Self-Publishing listing prices and tips from this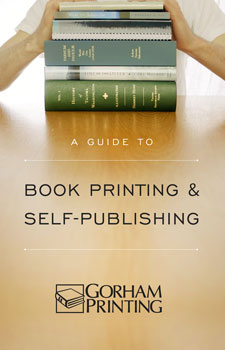 Northwest short-run book printer. One of the first book printers to offer a free guidebook filled with price charts and instructional information, Kurt Gorham, owner of Gorham Printing, has continued updating this handy guide over the years. What better way to spread the news about short-run book printing and what Gorham Printing offers than sending a sample book to potential customers?
Thousands of people, across the United States, have received past variations of the book, enjoying and feeling encouraged by the tips and ideas. Now the 2013 edition is available, for writers in the United States, filled with new, lower pricing as currently seen on the Gorham Printing website.  Click on the green Free Book ribbon and request a copy.
This handy guidebook is not only filled with useful information for authors and small press publishers but is a 64-page sample of their standard text and cover stock with gloss film lamination in perfect binding. It is also an excellent representation of the quality text layout and cover design available at Gorham Printing.
Tips about book production, design and marketing are found on its pages such as:
What is a standard trim size for a trade paperback book?
If a manuscript is 60,000 words, how many estimated pages is that for a 5.5×8.5 trade paperback book?
If I have PDF files of my text and cover, how much would fifty books cost?
Do I need an ISBN?
Is 2013 the year to finish a memoir or start on a new novel? Know someone who is ready to take the leap into author-dom? Be sure to request a copy of A Guide to Book Printing & Self-Publishing by Gorham Printing and start the New Year with a boost in the right direction. Requests can be made on the website or by calling 800 837-0970 where a staff member will be happy to take the address information and get a copy in the mail.