This time last week, Genevieve and Alison were loading up boxes of guidebooks, tote bags, business cards, candy, and Genevieve's trusty typewriter Buttercup to drive south for Wordstock, Portland's recently-rebooted  festival of books and writing hosted by Literary Arts.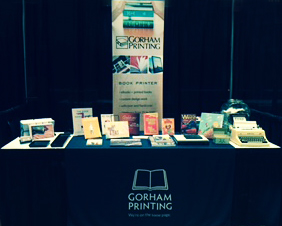 Thousands of writers and readers from around the region gathered at the Portland Art Museum last Saturday to attend workshops, hear readings from over 100 authors, and wander the booths at the book fair.
We talked to dozens and dozens of readers and writers, most of whom stepped up to our booth to browse our beautiful selection of sample books, and to pull a word from a fish tank to use in a sentence on Buttercup, the 1950s Royal typewriter that made the trek with us. Many of them took a copy of our free guidebook to learn more about the book printing process for themselves or a friend or family member working on a book.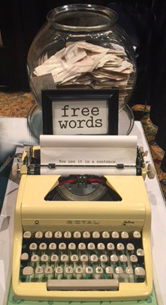 As a short run book printer, we attended this  event not only to meet writers who might be interested in publishing their own work who might need a printer, but also to chat with the 25+ independent publishing companies who were there to meet writers and sell their books.
While many of these publishing companies are big enough to need quantities of books that warrant printing on offset presses, they may need Advance Reader Copies (ARCs) ahead of the run that will be sold in stores. Our digital printing methods mean we can keep costs low on a smaller run of books, and we can produce them on fairly short notice if a publisher finds themselves with a deadline an offset printer couldn't hope to meet.
We had the great privilege of printing the ARCs of City of Weird, a fresh-released collection of short stories from Forest Avenue Press. This book was a Powell's Pick of the Month in October! We also saw past clients at tables for Atelier26 Books as well as the Willamette Writers, who print their literary journal, The Timberline Review, with us. We made friends at booths for YesYes Books, Chin Music Press and Overcup Press.
All in all it was a day full of excellent conversation with fellow book-folk. We can't wait for next year!