Did you know that October 1st through 7th is Alaska Book Week? In 2015, the governor of Alaska declared the first week of October the official week to "celebrate [their] writers and the state's rich literary tradition." They encourage Alaskans to participate in events such as book clubs, author readings and library visits to promote "a passion for reading among all [their] citizens." (You can read the full declaration here.)
We could not be more excited to learn about this celebration. In the last three years alone, we've printed books for at least seven Alaska-based authors. This is the perfect opportunity to showcase their work, and tout our ability to happily accommodate everything from complex design work to logistics-heavy barge shipments out of Seattle.
Who are the Alaskans we print for? Read on to learn about a few!
Matias Saari is a veteran marathoner who brought us the story of the USA's oldest marathon: The Equinox. He hired us to design the interior and the cover of this thoroughly researched and reported personal and impersonal history book. He wanted to make sure he had books in time to sell at the 2016 marathon, so we worked under a deadline to get 1000 copies of his books on a barge to Anchorage before last September. Learn more about The Equinox: Alaska's Trailblazing Marathon and buy a copy at Saari's website.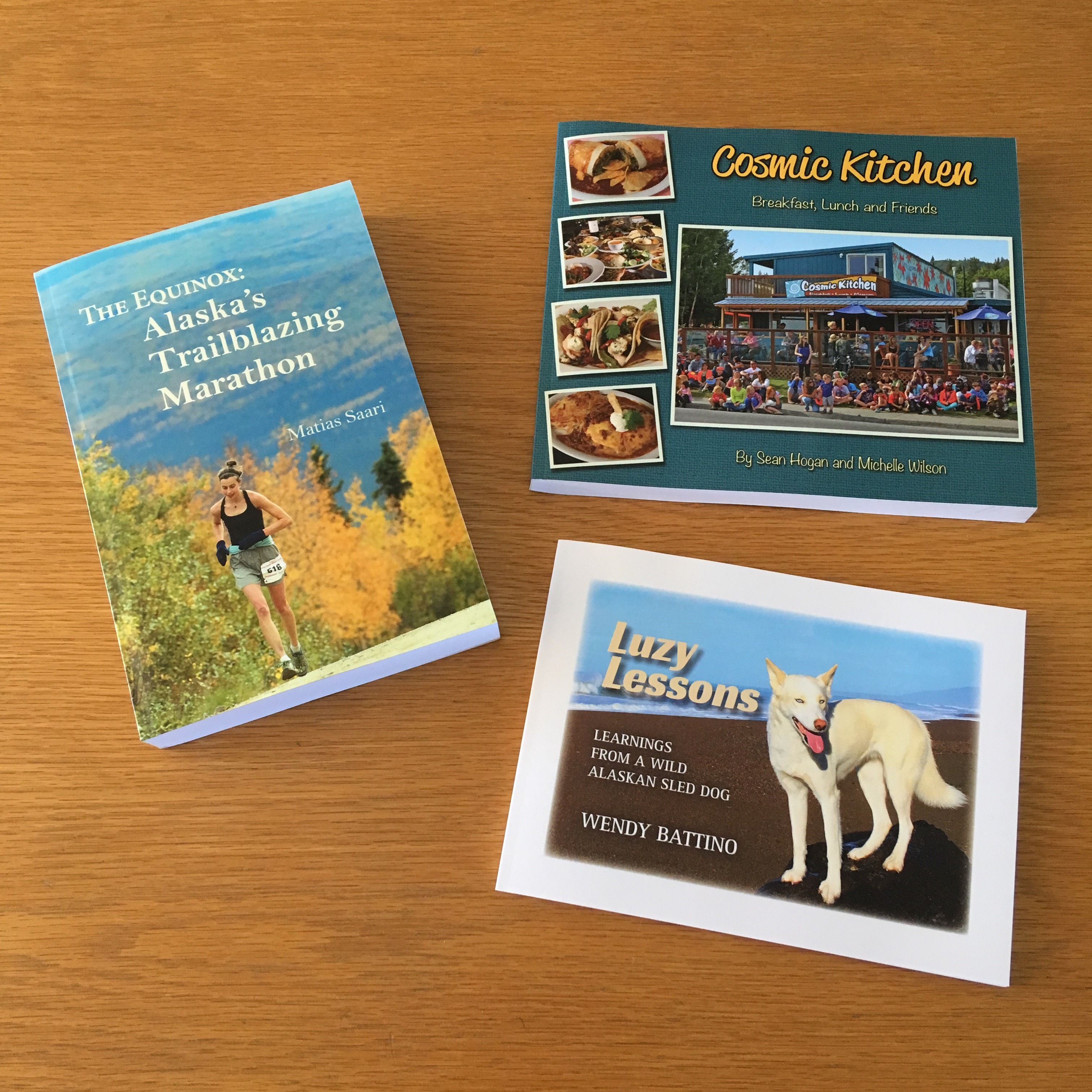 Outdoor adventurer and transformation coach Wendy Battino and her world-famous  Alaskan husky, Luzy, brought us their irresistible landscape softcover, Luzy Lessons, to print in July, and we're proud to report they needed a reprint by August! Luzy has a vast social media following, and Wendy turned her popular photos and positivity lessons into a book. You can get a copy, "signed" with Luzy's paw, at their website, wendybattino.com.
Jan O'Meara is the owner of a small publishing operation, Wizard Works, who's worked with us for several projects. Late last year, she brought us files for Cosmic Kitchen: Breakfast, Lunch and Friends, a cookbook compiled by two Homer-based (but Hawaii-raised!) restaurant owners, Sean Hogan and Michelle Wilson. This book makes our mouths water every time we printed it – four times in less than a year! If you're in Homer, visit their restaurant to say aloha and pick up a copy to take home (I know I would).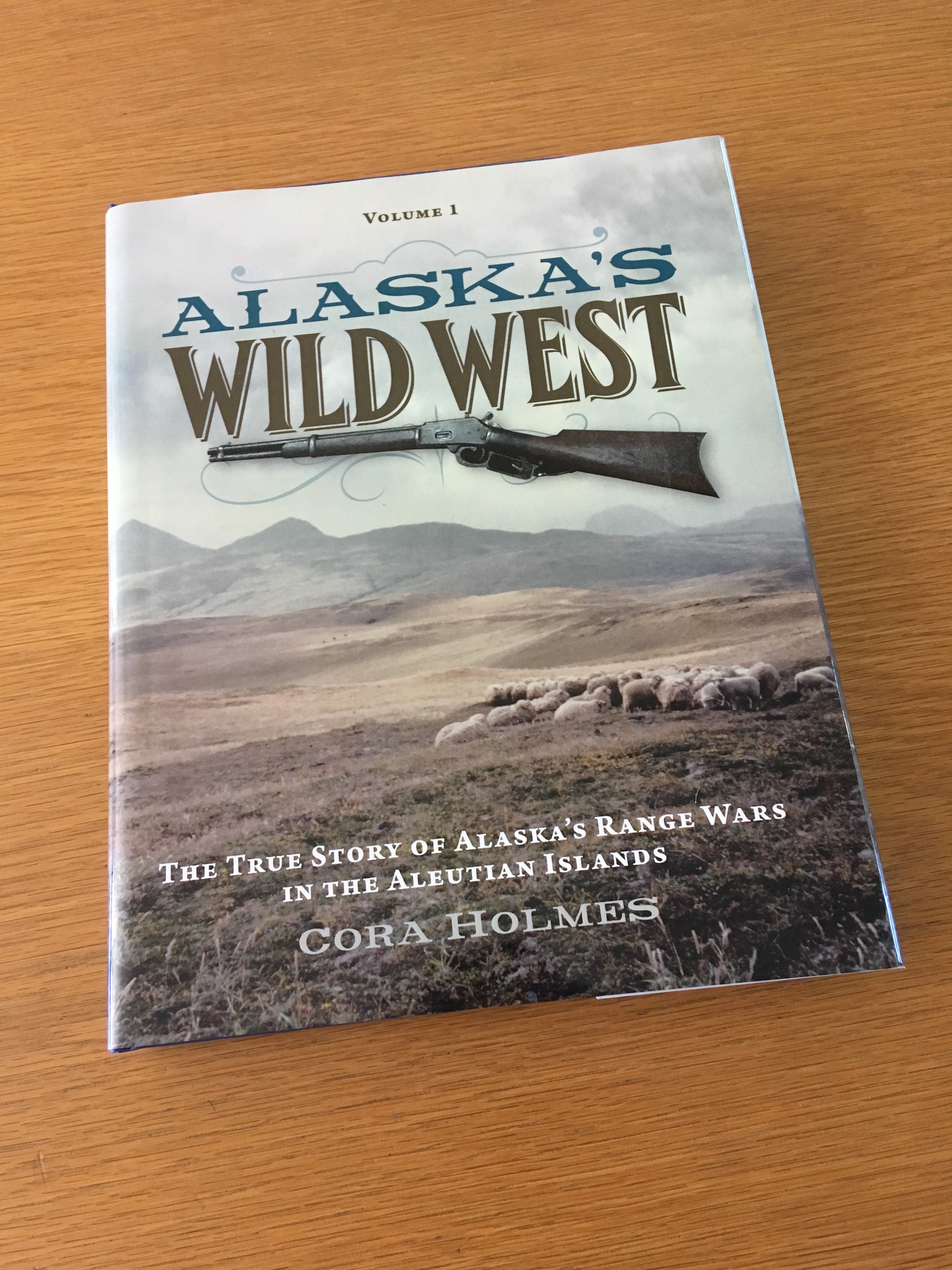 Arguably the "crown jewel" of our Alaska-oriented books was researched and written by Cora Holmes and designed by our own Kathy Campbell. Alaska's Wild West: The True Story of Alaska's Range Wars in the Aleutian Islands, an 8.5 x 11 inch cloth-bound hardcover, has it all: color images printed on 100lb coated stock; a gloss-laminated dust jacket; custom printed end sheets; and foil on the cover and spine stamped with a custom die. This book catches the eye of many of our in-shop visitors, and we are proud to have designed and printed it. Learn more about Cora and all the books she's hired us to work on at her website, coraholmes.com.
If you are an Alaskan author looking to self-publish, an Alaska-based independent publisher, or an Alaskan family or organization who needs books to preserve your history, Gorham Printing is ready and able to put beautiful books in your hands!