Last Friday the Lewis County Historical Museum welcomed the public for its sixth annual Evening with the Authors. We had the privilege of attending this event and decked out our table to match the museum's incredible Christmas Village and the rest of the festive decorations.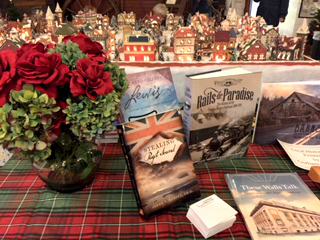 We took great pride in joining a good handful of our local authors at this event. While we love printing books for writers, families, and small presses all over the country, there is particular joy in supporting our local authors. This group of clients showcases the diversity of books we print. They represent novelists, historians, non-fiction and self-help writers.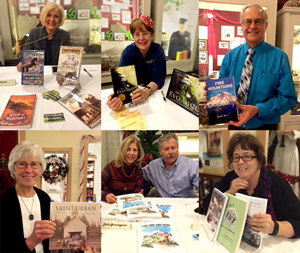 From left to right: Jan Pierson, author of the Ghostowners Series (calamityjan.com); Ellen King Rice with her novel, The Evo Angel, a mycological thriller set in the Pacific Northwest (ellenkingrice.com); Buddy Rose, author of Fire Mountains, a hiking guide to Washington's three volcanoes; Margaret Chambers with her history of a rural Lewis County church, St. Urban's Church: Early Years; Randall R. Booher and his personal development workbook, You Are the Issue, hot of the presses, along with his illustrator (and sister!), Leslie Gammelgaard; and Julie McDonald Zander with just two of her many local and personal history books, Winning a War and The Other Side of Banking (chaptersoflife.com).
We hope to see even more of our local authors here next year. Contact the museum for more information on how to participate.