Not much is free anymore, yet here is a perfect-bound (trade paperback) book with pricing and information any writer could use. Who's giving away a free guidebook? Gorham Printing is, tucked away in southwest Washington, they are a manufacturer of dreams. Real dreams from the heart of people who have wanted to write the great American novel, author a self-help book, or the poet with a collection of sonnets and verse. For over thirty years Gorham Printing, a short-run book printer, has been churning out soft cover and hard cover books, of all genres, for authors and small publishers across the country.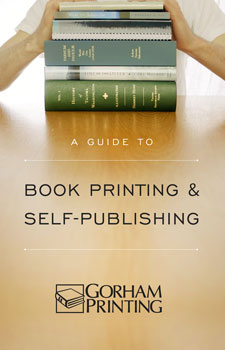 What is a short-run book printer?
At Gorham Printing the minimum order is 25 copies of a book up to 2,000. Small only in size, with ten people full-time employees, this dedicated staff produces giant size professional quality and customer service for their clients. Kurt Gorham, owner, has created an environment of knowledge and expertise in Centralia, Washington, where thousands of book are designed and printed every year. This is an all-digital shop, producing books in black and white and full color. An author can place an order for one hundred books to be used as gifts, advance review copies, or for immediate marketing and selling in various venues.
Order Your Free Guidebook!
On the Gorham Printing website, there are various click points for ordering a free copy of their informative guidebook which includes pricing and details about producing a book-industry standard book. The guidebook is also a sample of the standard text and copy stock used at Gorham Printing. Get your copy today.