Book binding is one of the world's oldest art forms. Over the centuries, its many variations have been traded across cultures, growing and changing with new technologies. Many of those unique variations still persist today. So many, in fact, that it can be difficult to decide which book binding method is best for your book.
To help you choose, here is a quick guide covering the most popular book bindings and discussing the pros and cons of each option.
1. Perfect (Softcover) Binding
Perfect binding is one of the most popular bindings seen today. It's referred to by many different names, including softcover and paperback..

The cover of a perfect bound book is usually made from a heavy paper stock that is slightly thicker than the book's interior pages. After the cover is printed, it is often either coated or laminated to enhance its durability.
Perfect binding is popular because it is affordable, durable, and has the fastest curing time of any binding. Most softcover books are capable of withstanding years of use.
Perfect bound books usually use glue for binding such as EVA (ethylene vinyl acetate) or PUR (polyurethane reactive). The glue bonds tightly with the paper along the book block's spine. You may sometimes see softcover books that are sewn if the book is printed in signatures, but this is not very common anymore because of how stiff the sewn binding can make the book. Sewn books also require extended production timelines.
At Gorham Printing, we use EVA glue to bind our softcover books. EVA glue is thermal-reactive, meaning that it is solid at room temperatures. The glue is melted before application and then quickly dries to form a strong bond as it cools. Because it doesn't require solvents or water, EVA glue is fast setting and has a long shelf life. This is why it is our binding choice for softcover books.
A whole slew of genres are being perfect bound, including graphic novels, programs, cookbooks, journals, poetry books, coloring books, magazines, and really anything else that you can fit between two covers.
Pros:
Lighter weight for handling
Cost effective
Easier to distribute and ship
Durable, professional presentation
Cons
May show wear faster than hardcover
Does not lay completely flat
2. Case (Hardcover) Binding
Case binding, also known as hardcover binding, is the second most popular style on the market. Most methods of case binding involve a thick piece of cardboard that has a printed image or cloth material wrapped around it to form the cover. This is where it gets its name because the cover is made separately and forms a "case."
The interior pages of a case bound book are adhered together with endsheets using one of several strategies, such as PUR glue or sewn binding. After the cover is formed and the interior pages are bound together, the book is cased in by attaching the bound interior pages to the cover using an adhesive (usually PUR glue).

There are several types of case bound books. One of the more popular styles is Printed Hardcovers. With Printed Hardcovers, the cover image is printed on a thinner paper stock, laminated, and then glued to the cover board to create a seamless image. In other cases, a cover material, such as cloth or imitation leather, is wrapped and glued to the cover. The book's title or an image is then usually pressed into the material via foil stamping.
Some case bound books will include a dust jacket. A dust jacket is an oversized paper on which is printed and laminated. The dust jacket is folded so that its interior flaps hook over the sides of a book.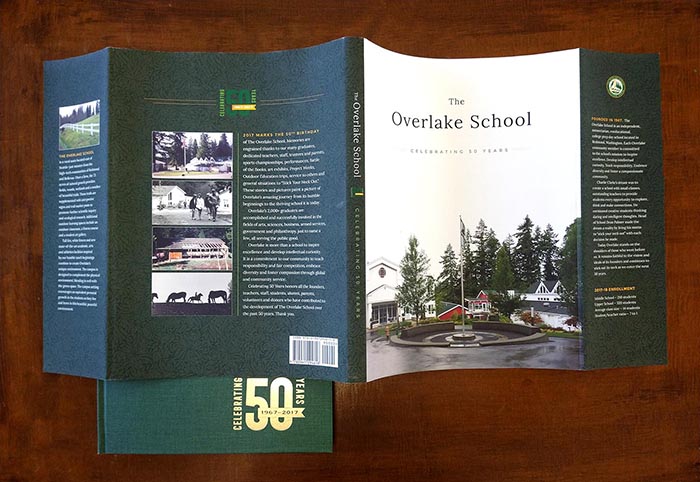 Most hardcover books are PUR glued. This increases the longevity of the book and makes the pages more flexible. With PUR glue binding style so readily available, sewn binding has lost popularity. When a book has a sewn binding, such as oversewn or cleat-sewn, it means that the interior pages are sewn together along a fold using binder thread. The interior pages are first printed in multiple sets on larger sheets of paper known as signatures. The pages are then folded into groups and joined with one another using thread. They are then adhered to the spine of the case using a thin strip of glue. Sewn bindings offer extreme durability but can be very stiff to open and quite costly.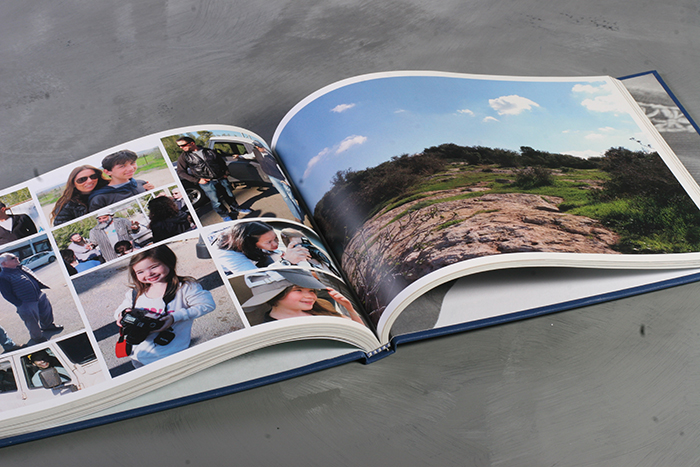 Gorham Printing uses PUR glue to bind our hardcover books. We offer both printed and cloth hardcovers with or without dust jackets. With hardcover books you can include custom endsheets, ribbon markers, and coated interior paper stocks. From family memoirs to coffee table photography books, we have the options that will fit your book.
Pros:
Highest level of durability
Esthetically pleasing
Can have coated interior pages
Variety of cover material options
Cons
Expensive to make
Extended production times
Can be heavier to handle
Higher shipping costs
3. Saddle Stitch (Stapled) Binding
You've likely seen saddle stitched books in the form of catalogs, magazines, or other booklets with small page counts. The concept is simple: the interior pages are printed on larger sheets that are then compiled, folded, and bound along the spine using a metal staple.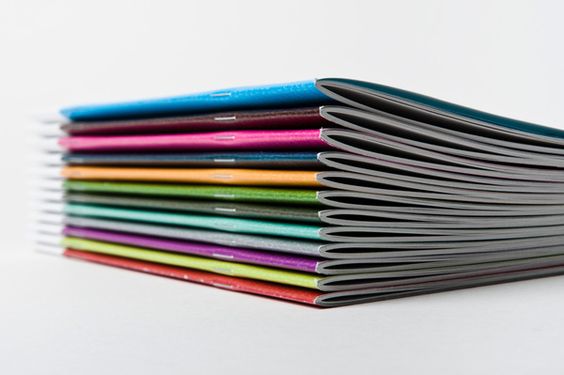 Saddle stitched books tend to be less expensive to print, making them a favorite of corporations or organizers that want a single-use book for a specific event. People are usually more comfortable throwing away a saddle-stitched book, meaning a marketer will have to weigh their inexpensive print cost against the perceived value of their book. With perfect binding becoming more affordable, saddle stitching has become less popular unless books are fewer than 20 pages or so.
At Gorham Printing we have replaced all of our saddle-stitching machinery with perfect binding. However if you do have a book less than 32 pages and perfect binding isn't right for you, we do offer spiral binding with page count as low as 20 pages!
Pros:
Inexpensive to print
Fast turnaround time
Works well for mass produced booklets
Cons
Less professional looking
Lacks printable spine
Must be very small page counts
Fewer material choices
4. Spiral Binding
There are a few different variations of spiral bindings, but all work using the same basic principles. This method starts by punching several small holes along one side of the book. A coil is then fed through the holes to create a binding.

Most commonly the spiral will be plastic and can come in a variety of colors. With new technology in production, it is becoming more common to see spiral books with a metal binding as well. This style of spiral bound books is called Wire-O. Wire-O binding can cost slightly more than plastic spiral but offers a more sturdy binding, and the pages tend to slide easier over the coils.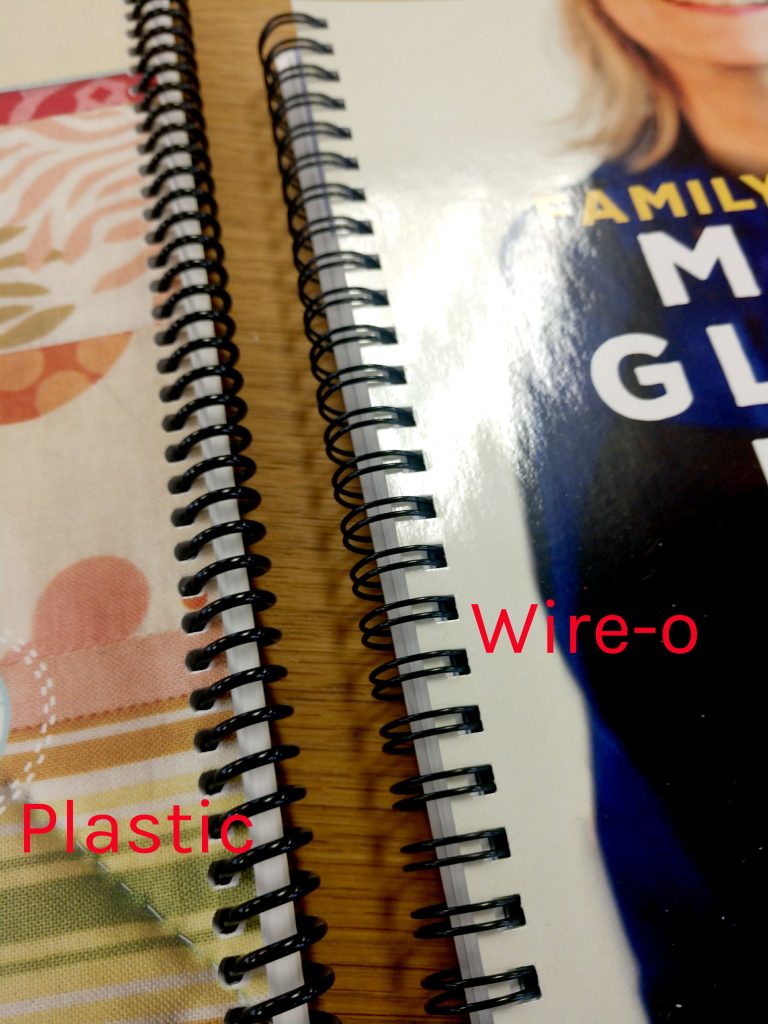 At Gorham Printing we offer a variety of colors of plastic spirals as well as Wire-O. Spiral binding works great for a number of genres, including journals, cookbooks, and light textbooks, because they lay completely flat when open. This allows the reader to set the spiral book down on a flat service while doing other activities.
Pros:
Lays completely flat when open
Coated paper can be used for interior pages
Customizable spiral coil color
Very durable binding
Cons
Costs a little more than softcover books
Pages can wear on the coils
Longer production times
Not suitable for books with large page counts
What Kinds of Books Can Gorham Printing Print?
Here at Gorham Printing, we focus on softcover, hardcover, and spiral bindings. Our softcovers are our most popular binding style. We also have a variety of premium add-ons to choose from to make your book stand out from the crowd! Our hardcover books can either be a Printed Hardcover or Cloth Hardcover, available in a multitude of colored fabrics or imitation leathers. Our spiral books can either be plastic coil or metal wire-o.
If you'd like to learn more about the book printing process, check out our book printing flowchart. The chart includes production timelines for our softcover, hardcover and binding styles. You can also check out this video to see our print machines in action.
Your book's binding is a huge part of your book's aesthetic, budget, and options. If you are still having trouble deciding which binding style is right for you, give us a call and we would love to talk to you about your book project!